Pre-Cut Civil War Tumbler Quilt Kit
Manufacturer #:
Civil War Tumbler Kit
Pre-Cut
"Civil"
"War"
"Tumbler"
Quilt Kit - 49" X 69" throw size Precision die cut from
"Civil"
"War"
prints and shirtings. Reminiscent of the quilts made in the 1800s from scraps. Additional fabric requirements: 3 1/2 yds. backing 3/4 yds bias binding
$51.00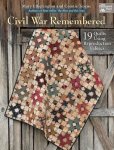 Hot Citrus Pre-cut Quilt Kit -
Manufacturer #:
Hot Citrus Kit
"Pre-cut"
quilt kit. All pieces are precision die cut all you have to do is pick up the pieces and sew. It goes together so quickly you can piece the top in one afternoon. Measures 49" x 65" lap size
$39.99